Corn in Kenosha
Did you know that the state of Wisconsin is one of the top producers of corn in the nation? That must be a lot of corn; in fact, there are 2.97 million acres of cornfields in Wisconsin. While there are six different types of corn, the most common in Wisconsin is grain corn which is used to feed cows, pigs, and poultry. Other uses of grain corn are to generate ethanol, corn oil and cornstarch, and other non-food products. Each type of corn serves its own purpose, but people most commonly enjoy sweet corn on hot, summer days.
As you peruse the produce section of your grocery store or visit your local produce stand, you may notice that corn is harder to come by in some years versus others. More often than not, the unpredictable Wisconsin weather affects the corn crop, which can be detrimental to farmers.
In Kenosha, Wisconsin, farmer Joe Smith of Jerry Smith Farm answered some of our questions about this year's corn crop. 
How many acres/rows of corn crop does Jerry Smith Farm have in Kenosha County?
We plant about 120 acres of Sweet Corn. That's about 21,600 kernels. The rows are 30 inches apart from each other, and the seeds are planted nine inches apart. We plant corn six different times throughout two months. Planting multiple times will allow for harvesting numerous times throughout the season. We planted the first corn crop on May 1st, and the last was just recently, on June 28th. The first crop should be ready by the first week in August, just in time for Sweet Corn Fest. 
Do you only grow sweet corn at Jerry Smith Farm?
We do grow some field corn that we sell as decoration during the fall season, and we use it during our pumpkin season as decoration at the farm. 
How has the Wisconsin weather affected the corn crop so far this year?
It looks like the rest of Wisconsin is doing great. Kenosha and Racine could use a big drink of water.  
How much rain is needed to keep corn on track to grow?
About an inch of rain a week with nice warm weather. In my perfect world, there would be an inch of rain every week, and the highs during the day would be 75-80 degrees.
In what ways are you affected by a bad crop? What does this mean for you and your farm?
If there is a bad crop, we lose our input costs. This includes the cost of the land, seed, fertilizer and labor. It affects how we pay our bills. 
A common midwest expression in regards to corn, Knee-High by the Fourth of July. Does this expression hold true?
Yes, almost always. 
What is your favorite way to enjoy corn?
It used to be corn on a cob, but recently I tried Elote Corn which is corn in a cup. It's corn topped with mayo, seasonings, and some butter. It's delicious. We serve it at Sweet Corn Fest, so you're able to come try it for yourself.
Sweet corn is one of the most popular vegetables in the United States, and therefore Sweet Corn Festivals have become a midwest tradition. Jerry Smith Farm is not new to the idea of these fun festivals as they have been celebrating this delicious corn harvest for many years.
Nothing says summer more than Jerry Smith Farm's Annual Sweet Corn Fest. Located between Chicago and Milwaukee, Jerry Smith Farm is not one to miss.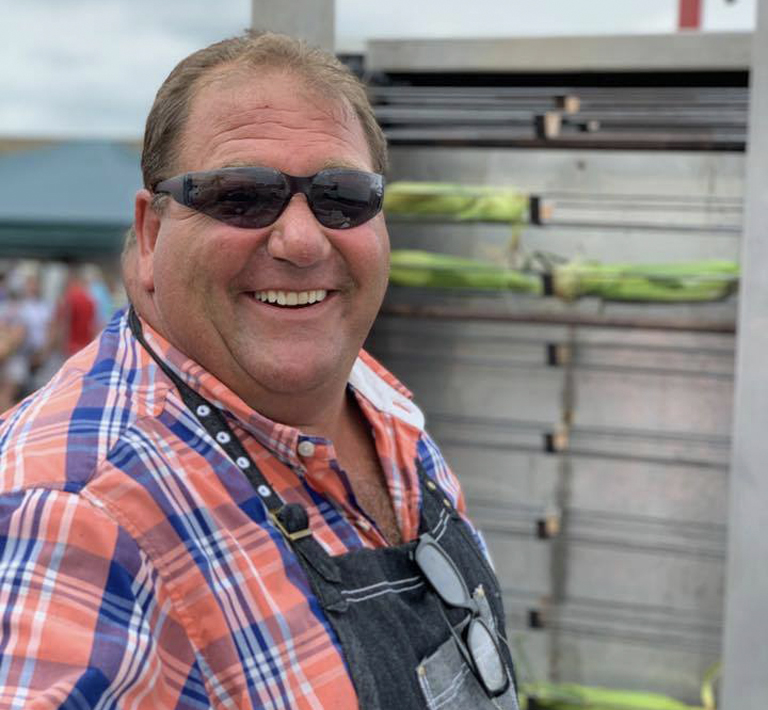 HOW TO PICK THE BEST CORN:
Look for bright green husks and ears with plump kernels.

If it's a good ear of corn, the kernels will get smaller closer to the end of the cob.

If the kernels seem abnormally large, this means that the corn is overmature. 

Corn with underdeveloped kernels, wilted or dried husks, brown kernels, or depressed areas on the kernels is no longer suitable. 
CORNY FUN FACTS:
The largest corn plant was grown in Costa Rica and measured at 35 ft tall. 

Corn can grow over an inch a day when given sufficient water and proper soil. 

On average, an ear of corn has 800 kernels in 16 rows.

There is one piece of silk for every kernel on the cob. 

Farmers grow corn on every continent except Antarctica.